Da ich jetzt die ersten Bilder gecheckt, aufbereitet und auf den Hoster geladen habe, kann ich ja schon mal mit dem Reisebericht von unserer diesjährigen Südwest Tour anfangen.
Hier noch mal der ungefähre Routen-Verlauf: klick
Die Reise ging am 19.05. mit BA von Düsseldorf, über London, nach Las Vegas. Der Langstreckenflug war, wie ich bereits erwähnte, nicht so prickelnd.
In Vegas angekommen, haben wir zuerst unser Auto bei Alamo abgeholt, wobei die Auswahl in der Choice Line sehr bescheiden war. 2 Chevrolet Captiva und ein Ford, der aber knapp vor uns in Beschlag genommen wurde.
Der Captiva ist meiner Meinung nach kein richtiger Midsize SUV. Da hab ich schon größere gehabt. Der Wagen hatte zwar einigermaßen Bodenfreiheit, allerdings war die Frontschürze doch ziemlich tiefgezogen.
Zumal hatte der Wagen kein 4WD und kein Cruise Control, was ich persönlich als schlimmer empfand. Gefahren ist der Captiva aber gut und bequem war er auch. Im Auto war mehr Platz für die Insassen, als es von Außen scheint.
Dann sind wir zum Flamingo, das wir für die ersten beiden Nächte gebucht hatten. In der Lobby ein irrer Trubel und natürlich eine lange Warteschlange beim Einchecken.
Wir haben noch einen Happen gegessen und sind dann müde ins Bett gefallen.
Am nächsten Tag haben wir erst mal im Hotel gefrühstückt und sind dann später zum Walmart und zum Boulevard Mall um die ersten Einkäufe zu tätigen.
Since I have now checked, processed and uploaded the first pictures to the hoster, I can start with the travel report from this year's Southwest Tour. Here is the approximate route again: click The trip started on May 19. with BA from Düsseldorf, via London, to Las Vegas. As I mentioned earlier, the long haul flight wasn't that thrilling. When we arrived in Vegas, we first picked up our car at the Alamo, although the choice in the Choice Line was very limited. 2 Chevrolet Captiva and a Ford, which was taken over just before us. In my opinion, the Captiva is not a real mid-size SUV. I've already had bigger ones. The car had some ground clearance, but the front apron was quite deep.

Especially since the car had no 4WD and no cruise control, which I personally found worse. The Captiva drove well and was also comfortable. There was more space for the occupants in the car than it appears from the outside. Then we went to the Flamingo, which we had booked for the first two nights. In the lobby a mad hustle and bustle and of course a long queue for check-in. We ate another bite and then fell tired to bed. The next day we first had breakfast in the hotel and then later we went to Walmart and Boulevard Mall to do our first shopping.
Hier mal ein paar Bilder vom Flamingo. A few pictures of Flamingo Hotel.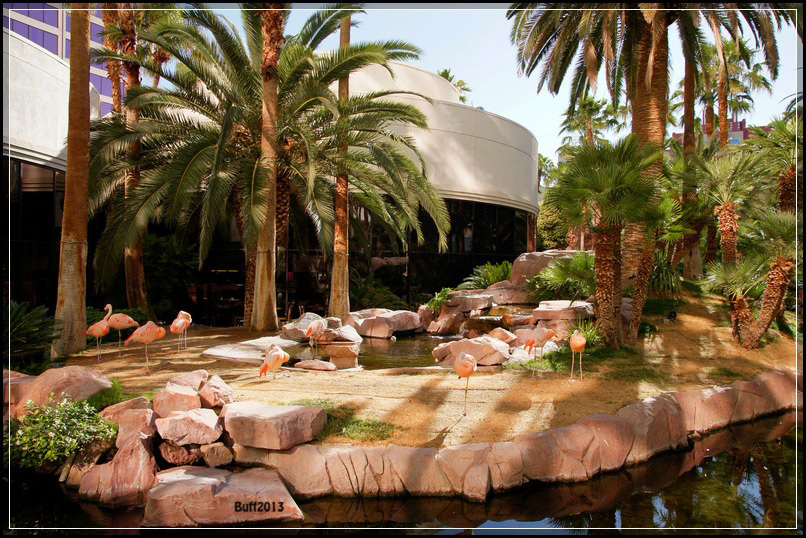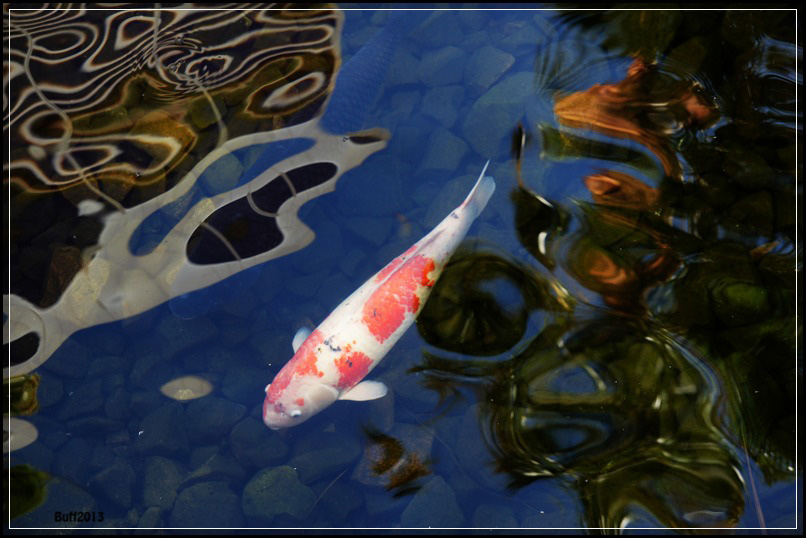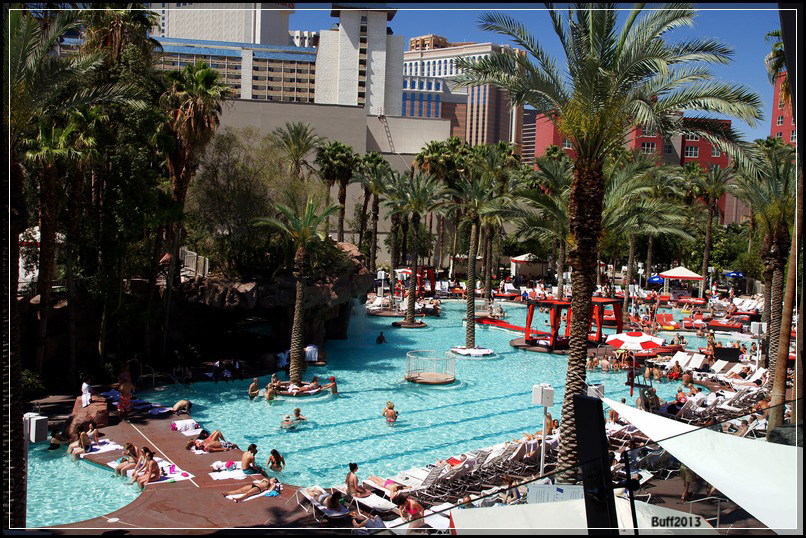 Im Casino ist mir aufgefallen, dass es eine neue Generation von Spielautomaten gibt, die ohnehin schon groß sind, aber obendrüber noch ein riesiges Display haben.
In the casino I noticed that there is a new generation of slot machines that are already big, but also have a huge display.
next